UMS Foundry wide range of solutions to develop MMICs.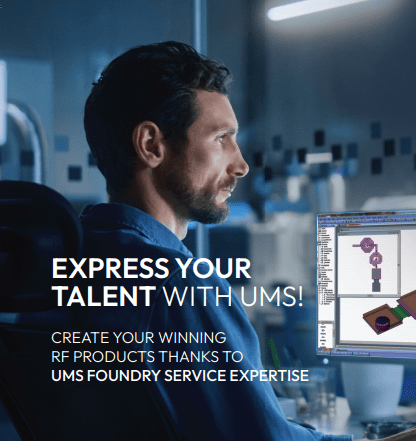 UMS Foundry offers a wide range of solutions to develop, produce and qualify your own proprietary MMICs.
For more than 25 years, UMS has been a leading provider of III-V open foundry services used for the design of state-of-the-art RF and microwave MMICs in the Defense, Space, Telecom and ISM markets. UMS GaAs and GaN-on-SiC technologies are developed in-house and processed on industrial manufacturing lines located in Germany. From product development to full production, UMS supports our foundry customers' growth all over the world.
Open access to :
One-stop offering :
Dedicated support from design to tested and packaged products
European manufacturing for small to large volume
UMS comprehensive  support and set of solutions will enable you to design innovative systems, launch products on time to market and secure your supply chain for production.
CONTACT MODULE