EASii IC : Integrated Circuits ASIC or SOC Design House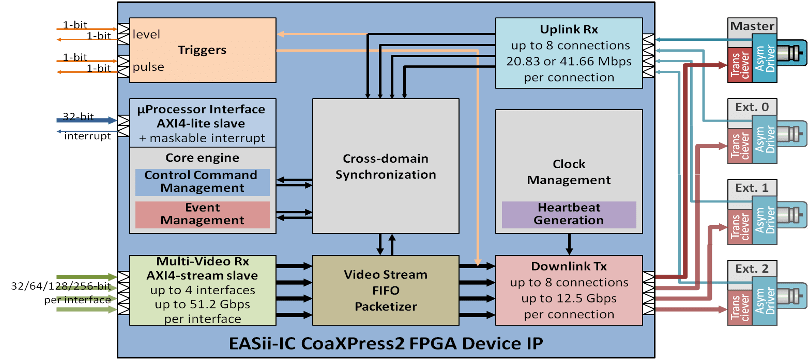 EASii IC is a fabless company that develops digital, analog, mixed and RF integrated circuits. EASii IC also designs PCBs and FPGAs.
EASii IC operate in the fields of consumer electronics, space, aeronautics, telecommunications, industry, automotive and medical.
EASii IC ability to design turnkey tailor-made products allows our customers to differentiate themselves, shorten their time to market and access state-of-the-art solutions.
Design SoC & IPs Digital (FE) 
DIGITAL ASIC
Architectures, Modeling VHDL, VERILOG

Simulations and syntheses

Functional (C, UVM, System Verilog, etc.) and formal verifications

DFT (Scan, Bist, ATPG, …)

Back End (P&R)

Prototyping on FPGA (Zebu, Prodesign, etc.)
ANALOGUE ASIC & RF
Schematic design

Simulations

Layout

Measurements and Characterizations
ANALOGUE DEVELOPMENT
Expert in data conversion (ADC, DAC)

Power converter (DCDC converter)

Transmissions

 

reception channels (RF Tranceivers)

Audio Amplifiers

Mems

 

Drivers

Very high voltage development (400 volts)
Business Model

EASii IC has developed a solid knowledge of SOCs through the many application processor projects in which it has participated over the years.
Since 2016, EASii IC has been recognized as an ARM design partner. As a member of the ARM Flexible Program, EASii IC has access to the broadest portfolio of physical processor, security module, peripheral controller, and IP design SOCs.
With no ARM license fees for prototype production, EASii IC can offer you a fast, affordable, and low-risk path to silicon prototypes.
From 180 nm to 7nm, the EASii IC team is your solution for physical implementation and analog layout.
EASii IC teams will assist you in selecting the best technological node, in improving the testability of your design (Design For Test), and in defining the most effective low consumption strategy. Thanks to its robust physical implementation based on UPF and its signoff flows, EASii IC will provide the best performance for your design.
EASii IC has developed strong skills in FDSOI, FinFET and BiCmos technologies.
EASii IC flows comply with TSMC, Global Foundry, STM, Samsung, XFab, Tower Jazz …..
TEST & CHARACTERIZATION :
T

 

estability (digital and analogue DFT) included in development to guarantee production.

EASii-IC internal characterization service for ASIC specification verification

Industrial

 

production outsourcing (ATE): Wafers and / or Box

Reliability Outsourcing: ESD, Latch-up, Duration (HTOL), Box (MSL ..)
With 20 years of SoC implementation experience and 90 engineers working in 2 design centers, EASii IC can provide cutting edge technology solutions for the most demanding projects.
For more details visit EASii-IC.com Web: 
CONTACT MODULE