Avalanche Technology headquartered in Fremont, California, is the world leader in Spin Transfer Torque Magnetic RAM (STT-MRAM) non-volatile memory leveraging perpendicular magnetic tunnel junction (pMTJ) cell structure manufactured on 300mm standard CMOS process.
Backed by more than 300+ granted patents around cell, circuit, and system design leveraging MRAM, our technology and products provide breakthrough speeds, unlimited endurance and non-volatility while reducing power and cost. With such attributes, our technology will serve and exceed our customers' objectives as a replacement for SRAM, eFlash, and ROM in embedded applications in addition to discrete SRAM, non-volatile SRAM, NOR and DRAM.
APPLICATIONS
PRODUCTS
Discrete MRAM
Avalanche's discrete MRAM devices are perfect for applications that must store/retrieve data without incurring large latency penalties. These devices also offer low power, high endurance, and high performance with scalability.
Avalanche's Persistent SRAM (P-SRAM) is a non-volatile memory utilizing an advanced pMTJ STT-MRAM technology and is offered with either a Serial Peripheral Interface (SPI) or a parallel interface (x8/x16). The products on this page are ideal for space applications.
Radiation-hardened, general-purpose, multi-core processors and FPGAs are used in on-board computing for applications such as military surveillance and weapons systems, human-rated spacecraft, habitats and vehicles, and robotic science and exploration platforms. System applications range from small satellites to large flagship-class missions.
These processors and FPGAs need highly reliable boot code and configuration memory. Avalanche's 3rd Generation P-SRAM using our 22nm high reliability pMTJ STT-MRAM enables the next generation of distributed edge processing in space for Low Earth Orbit Satellites.
These memory devices are offered with either a Serial Peripheral Interface (SPI) or a parallel interface (x32). The products on this page are ideal for aerospace and defense applications.
Embedded MRAM
Avalanche provides low energy, scalable, high endurance non-volatile random access memory macros through foundry partners. These macros enable quick and efficient implementation of complex and cost-effective SoC designs.
With advancement in process geometries offered by ASIC foundries, System on Chips (SoC) are having multiple CPU cores for increased functionality. Multiple CPU cores require significantly increased amounts of embedded memories, in many cases 4X that which was used in prior generation products.
SoC designers are constantly faced with the challenge of choosing between the various embedded memory types offered by ASIC foundries, their product needs and competitive pressures. Typically used in embedded applications are old technologies like SRAM, EEPROM and FLASH; each has its advantages, but along with those come significant weaknesses.
Avalanche's epMRAM Technology Attributes
Avalanche's epMRAM technology delivers the next generation scalable versatile memory architecture with the benefits of low latency, low power, infinite endurance, high performance and scalability to lower geometry nodes.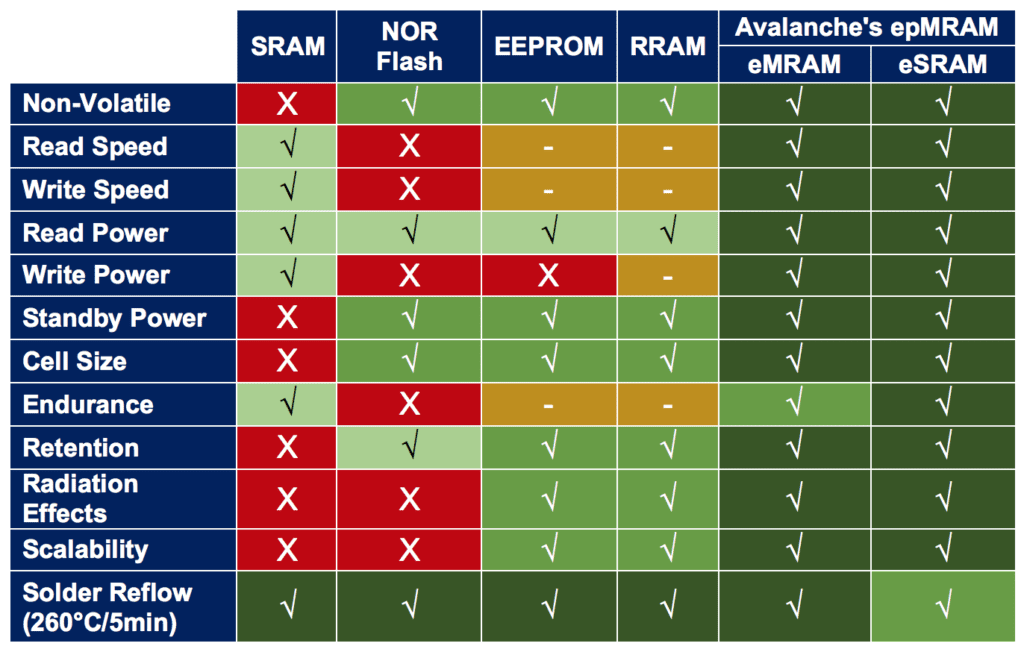 eMRAM or eSRAM can be used as a unified code and data embedded memory solution. For eSRAM, code must be loaded after reflow.
Summary
Avalanche's epMRAM with versatile memory architecture enables unified code and data space solutions. epMRAM is available through foundry partners empowering the next generations of GPUs, MCUs, DSPs, ASSPs and ASICs as eFlash and eSRAM replacements. We look forward to working with your team to create exciting and better performing SoCs.
System-On-Chip
Avalanche's System-On-Chip family consists of high-reliability, configurable devices that are ideal for system control, monitoring and data logging. Due to the high integration, system designers can use a single component to replace many different subsystems. Combined into single designs with higher-density discrete MRAM, they simplify and improve time to market.
---
Avalanche Technology
3450 West Warren Avenue, Fremont, CA 94538
Phone: (510) 897-3300
Email: info@avalanche-technology.com
Website: www.avalanche-technology.com
Local contact:
CONTACT MODULE