PARTS SPECIFICATION SYSTEMS
Version

1.0

Download

142

File Size

609.24 KB

File Count

1

Create Date

26/07/2018

Last Updated

28/02/2022
PARTS SPECIFICATION SYSTEMS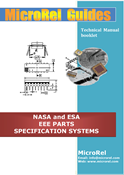 The U.S. National Aeronautics and Space Administration (NASA) adopt MIL-STD-975 as Standards Electrical, Electronic and Electromechanical (EEE) Parts List, consisting of selected standard military specification part numbers approved for usage in NASA Space Programs.
The European Space Agency (ESA) uses its own specifications for electronic parts. The ECSS-Q-ST-60C standard defines the requirements for selection, control, procurement and usage of EEE components for space projects.
These two specification systems have the same goal, to provide a set of documents for part procurement which contain performance and testing requirements designed to provide reliable components.