PARTS OBSOLESCENCE MANAGEMENT
Version

2.0

Download

160

File Size

325.81 KB

File Count

1

Create Date

16/07/2018

Last Updated

28/02/2022
PARTS OBSOLESCENCE MANAGEMENT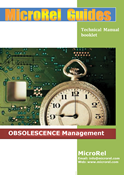 If your organization Designs, Manufactures, Supplies, Services or uses Systems or Equipment that are designed to provide years of reliable service, the chances are that your organization is at significant risk of the global market forces driving component Obsolescence.
This is the reason why obsolescence management is now an essential part of the product support activities in sectors such as defense, aerospace, nuclear and railway; where systems need to be supported for several decades. These all give rise to many combinations and permutations of the elements of an effective Obsolescence "comprehensive and effective" proactive strategy.
This booklet is designed to guide Managers and Senior Personnel through the strategy processes, giving references to appropriate tools and standards that contain the most recent opinions on the thorny subject of Obsolescence.