VPT Components is one of the Largest Providers of JAN Certified Semiconductors
MIL-PRF-19500 JANS certified semiconductor manufacturer. VPT Components is now one of the largest providers of JAN certified semiconductors along with a full-service facility for the independent, unbiased testing and custom assembly of electronic components.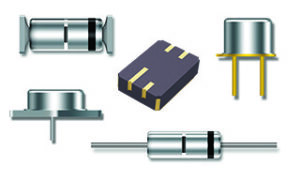 VPT Components acquired the assets of MACOM's Hi-Rel Components business (formerly Aeroflex Metelics) located in Lawrence, MA in Sepember 2018 and we are committed to supporting the former MACOM slash sheet qualifications as previously listed on the QML. This acquisition provides us with an additional 40,000 square feet of state of the art manufacturing and test capability of high reliability discrete semiconductors as we grow our product portfolio.
We are also maintaining our Billerica, MA operations with 10,000 total square feet and 4,500 square feet of class 10,000 cleanroom for discrete/hybrid assembly. Our Billerica operation includes the addition of $5M in new test, assembly, and screening equipment that enables us to assemble a wide variety of hermetically sealed components to the highest quality levels. VPT Components keeps pace with advancing technology by continually adding new and increasingly sophisticated automatic test and assembly capabilities.
MIL-PRF-19500 qualified Rad Hard NPN and PNP small signal and power switching transistors, SCRs, and MOSFETs along with an extensive offering of Zeners, rectifiers, switching diodes and Schottky products including JANHC and JANKC qualified die. Custom products and packaging services are also available.
Products are manufactured and tested in the USA at our two JANS DLA certified facilities located in Billerica and Lawrence, MA.
---
VPT Components – Transistor product portfolio includes NPN and PNP small signal bipolar, NPN and PNP medium and high-power switching, Silicon Controlled Rectifiers, NPN and PNP qualified radiation hardened transistors, MOSFETS, and JANHC and JANKC qualified chips.
All bipolar transistor products are qualified to MIL-PRF-19500 slash sheets and are offered in JAN, JANTX, JANTXV, JANS, and JANSR quality levels where applicable.
MOSFET products are offered in JANS and JANSR equivalent options. Package options for transistors include through-hole (e.g. TO-5, TO-39, TO-18, TO-46, TO-66, TO-78) and surface mount types (e.g. UA, UB and Flatpaks).
Transistors Product Categories
NPN and PNP Small Signal Bipolar

NPN and PNP Power Switching

NPN and PNP Quad Switching Transistor

Silicon Controlled Rectifiers

Radiation Hardened Qualified NPN and PNP

MOSFETS

100V to 250V JANHC and JANKC Die
---
VPT Components – Diode product portfolio includes zeners, general purpose switching diodes, temperature compensated zener reference diodes and current regulator diodes. All diode products are qualified to MIL-PRF-19500 slash sheets and are offered in JAN, JANTX, JANTXV and JANS quality levels where applicable. Package options include glass axial leaded and surface mount types such as round (UR) and square (US) end cap MELF, as well as ceramic UB.
Chip versions of our diode products are also available in commercial as well as JANHC and JANKC quality levels.
Diodes Product Categories
Zener Voltage Regulator Diodes

Low Voltage Avalanche Zeners

Temperature Compensated Zeners

General Purpose Switching Diodes

Current Limiter Diodes
---
VPT Components
9 Hampshire Street Lawrence, MA USA 01840
Phone 978-683-4122
Fax 978-655-8882
Email: info@vptcomponents.com
Web: www.vptcomponents.com/
CONTACT MODULE