MEC was founded in 2004 with Expertise in design & development of RF components for Aerospace, Defence & wireless applications.
MEC experienced key personnel have successfully designed state-of-art MMICs 1-100GHz from L-band to V-band both in GaAs and in GaN technologies transitioned into full production.
MEC has been awarded several contracts from the Italian Research and University Ministry, the Italian Space Agency, the European Space Agency and the European Union which were exploited to build a product portfolio of advanced microwave and millimetre-wave components with exceptional RF performance.
MEC is able to include Custom designed MMICs into regularly scheduled multi-project GaAs wafer runs of the major foundries, offering the potential for low cost MMIC proto-typing and economic new product introductions.
MEC is selected as "third party" Foundry-Design-Center of United Monolithics Semi (UMS) since 2011.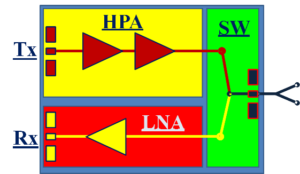 MAIN ACTIVITIES:
Characterization and measurements of active devices and circuits
Implementation test jig for prototype MMIC evaluation
Pseudomorphic high-electron-mobility transistor (pHEMT)
GaAs and GaN MMIC fabrication process & comparison of other technologies
MMIC (Monolithic Microwave Integrated Circuit) Foundry selection
MMICs, packaging, modules, sub-systems
Layout considerations, Simulation & modelling
Passive circuit design – filters, couplers, splitters, baluns
Active circuit design – amplifiers, switches, attenuators, phase shifters
RF On-Wafer (RFOW) test and measurement
CAD tools for circuit design Standard Simulations

DFM (Design For Manufacturing) for production Yield optimization
DOWNLOADS:
MECGaNX27 – 8.5 to 10.2 GHz GaN HEMT Power Amplifier
MECGaNTRSX – X-Band GaN HEMT TxRx Absorptive Switch
MECGaNSCTRMX – X-Band GaN Single-Chip Transceiver Frontend
MECGaNLNAX – X-Band GaN HEMT Low Noise Amplifier
MECGaNLNACX – C- to X-Band GaN HEMT Low Noise Amplifier
Contact Info :MEC – Microwave Electronics for Communications
Via San Nicolò di Villola, 1
40127 Bologna – ItalyTel/Fax: +39 051 6333403
Email: contact.mec@mec-mmic.com
Web: www.mec-mmic.it