UMS e-News updates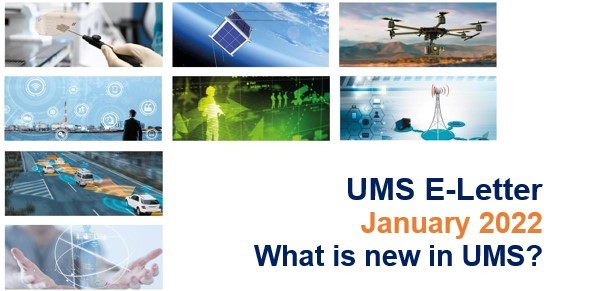 United Monolithic Semiconductors (UMS) European leader in offering RF MMIC – Monolithic Microwave Integrated Circuit (GaAs, GaN, SiGe technologies) products and foundry services for Defence, Space, Telecom, Automotive, Radar and Industrial sectors announced the following News:
Products
| | |
| --- | --- |
| | |
| CHA7060-QAB, a new GaN HPA in QFN package for 6 and 8GHz telecom bands | First Space Qualified hermetically packaged GaN Power Transistor |
Foundry
UMS is proud to announce that the GH15-10 MMIC GaN HEMT technology has successfully been space evaluated and is now part of the European Preferred Part list (EPPL) established by the European Space agency (ESA).
This GaN 0.15µm HEMT process is optimized for high power applications up to 40GHz with high PAE and good linearity performance. This technology is dedicated to HPAs, robust LNAs and switches design for wireless Telecom (PtP, 5G, FWR), Satcom, Radar and Broadband multipurpose applications.
The MMIC process open in foundry mode includes also precision MIM capacitors, inductors, air-bridges, metallic resistors, TaN resistors, high values TiWSi resistors, via-holes through the substrate and two metal layers for interconnection.
UMS in Video
We remain at your disposal for any further information you may require.
Mr. DANILO LAUTA
MICROREL – Via Guido Rossa 34, CP.00065 – Fiano Romano, ROME, ITALY
Email:
danilo.lauta@microrel.com
Phone :
+39 334 9529414
Web:
www.microrel.com
Note that as October 27, 2020 the UMS Web domain and E-mail addresses have changed to www.ums-rf.com and @ums-rf.com respectively