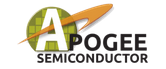 Apogee Semiconductor provides products and technologies for Space and other extreme environments.
Focused on making the frontier of space more accessible by bridging the technology gap between commercial and high-reliability technologies at a lower cost. We provide optimized products and infrastructure that give you the best in reliability and value.
Products and services are targeted towards enabling small-Satellites and large constellations that require high performance, a small form factor and radiation resilience at a lower cost.
Working in partnership with state-of-the art semiconductor foundries, Apogee Semiconductor develops Radiation hardened processes and components that serve as the foundation for our cutting-edge integrated circuits and IP blocks.
All our rad-hard products are built with cold-sparing capabilities and triple-redundancy providing maximum reliability and area savings.
Logic Functions
| | | | |
| --- | --- | --- | --- |
| | | | |
| XOR | Inverter | Voter | Flip-Flop |
| | | | |
| --- | --- | --- | --- |
| | | | |
| Level Translator | Transceiver | | |
Products details and Datasheets can be Download directly from Apogee Products page.
Solutions:
Apogee Semiconductor provides solutions that reduce time to market and simplify radiation hardened and high reliability IC design.
TalRad™ Process Design Kit
Apogee Semiconductor has partnered with TSI Semiconductors to create the Transistor-Adjusted-Layout for Radiation (TalRad™) Process Design Kit (PDK) in TSI's 180nm CMOS high-voltage process and is currently available for evaluation.
By combining advanced logic with intuitive tools, the TalRad™ PDK enables the rapid creation of rad-hard designs in a fraction of the time and effort.
IP Blocks
With the TalRad™ PDK as the foundation, Apogee Semiconductor is developing IP blocks for key components of the signal chain.
Contact Info :
Apogee Semiconductor 538 Haggard St. Suite 406 Plano, TX   75074 Phone : 972-559-4660 Email: sales@apogeesemi.com Web: https://apogeesemi.com
FOR ITALY MARKET : Mr DANILO LAUTA 
MICROREL – Via delle Sassete n.33, CP.00065 – Fiano Romano, ROME, ITALY Email:
danilo.lauta@microrel.com
Phone :
+39 334 9529414
Web:
www.microrel.com
General Enquiries :
info@microrel.com
In Partnership with: 

Rosenheimer Landstraße 117, D-85521 Ottobrunn-Riemerling, Germany Phone: +49 (0)89 6602923 Email: sales@protec-semi.de Web:
www.protec-semi.de