UMS RF MMIC – Monolithic Microwave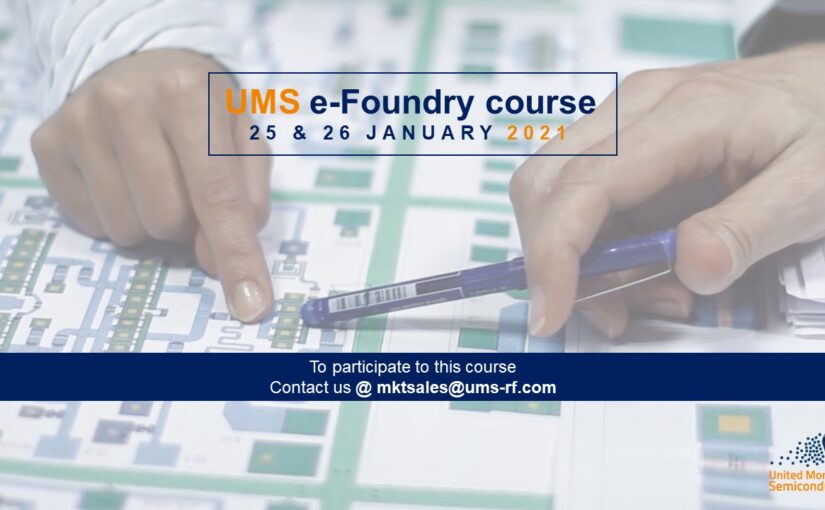 UMS will be present @ the EuMW 2020 edition which held on line from the 10th to the 15th of January.
UMS will be pleased to welcome you on our virtual booth (Exhibit Hall 4) and exchange with you on our  latest solutions and innovations.
UMS will also contribute to the EuMW event with the participation to workshops and presentation of papers on our recent technological and MMICs developments:
17.10 – 17.30 (EuMC39-4) Session Solid State High Power Amplifiers for Satellite and Radar Applications
 "A High Efficiency MMIC X-Band GaN Power Amplifier" – Mohammed Ayad, Nicolas Poitrenaud, Veronique Serru, Marc Camiade, Jan Grunenputt , Klaus Riepe (UMS)
10.50 – 11.10 (EuMC/EuRAD02-1) Special Session Focus Day: Active Array Antennas for Space
 "Recent Developments on MMICs for Active Array" –  Thibaut Huet (UMS)
Sunday, January 10


The workshop dedicated to high performance GaN MMICs being cancelled, Didier Floriot (UMS) will not present the "Recent Development of GaN Power Technology Applied to RF Sensors". The presentation was focused on the recent development of GaN power technologies addressing X to Q bands and the link with applications like Space and 5G applications  emphasized through different demonstrators, some of them being completed as  System-In-Package.
e-foundry course
UMS innovates with the organisation of e-foundry courses
The next session is planned on the 25th and 26th of January 2021.
More information and / or registration on mktsales@ums-rf.com
UMS, part of the space Pacis 3 project
With its 0.25µm GaN process, UMS is on board of the great Space Pacis 3 program
ESA (European Space Agency) has communicated on the 1st encouraging results and impressive performances obtained by the 10W X-band SSPA.
To know more, click on the link